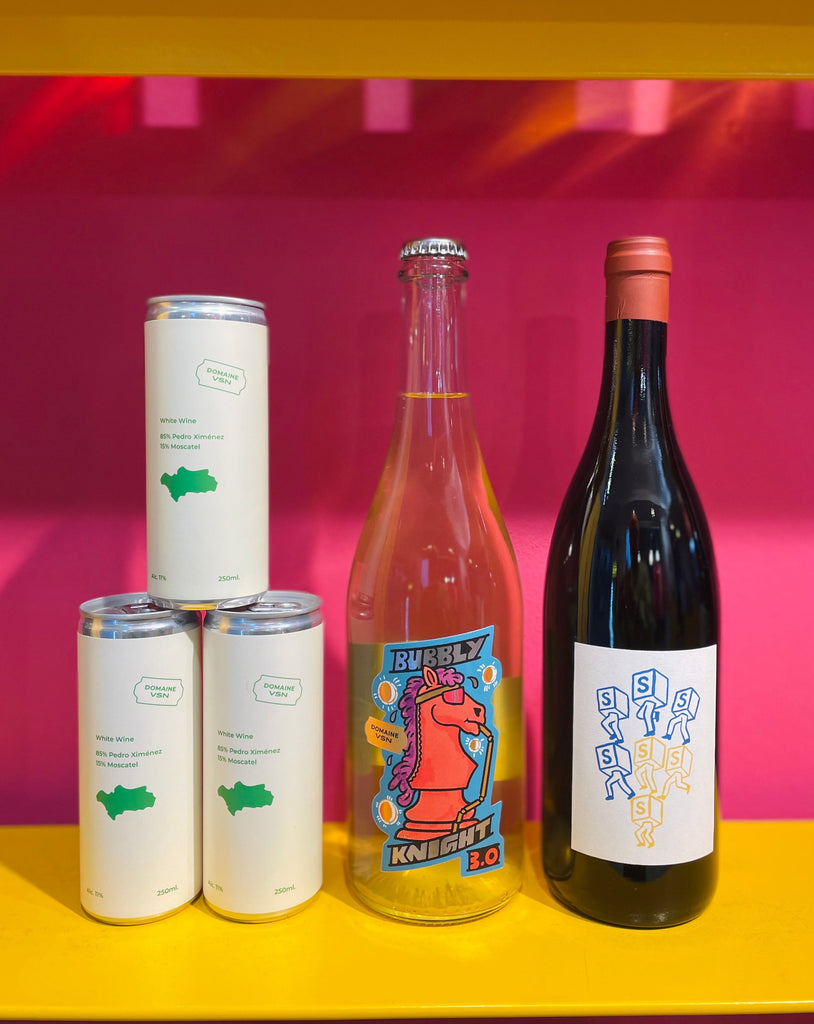 Vinsupernaturel
Regular price
485.00 DKK
Sale price
385.00 DKK
Unit price
per
Offer
Sold out
Bubbles, red and and 3 white cans. This is for the undecided people. 20% discount, if you're the type to say: "One of each, please". 
VSN CAN - White x3: Introducing the 2021 Samuel Párraga white wine, made in the sunny region of Malaga, Spain. This wine is expertly crafted from a blend of 85% Pedro Ximénez and 15% Moscatel grapes, grown at a coastal elevation of 470 meters above sea level. The vineyards are situated on deep clay soil with a mix of ferrous and limestone, creating the perfect terroir for producing high-quality wines.
Now available in a convenient can, this white wine is perfect for any occasion, whether you're enjoying a relaxing evening at home or on the go. Its bright and fresh flavors are sure to delight the palate.
Bubbly Knight: Michael Kacetl has done it again, proving that he is a master of crisp, refreshing pet-nats that never misses out on flavours of white fruit, citrus and hints of yeasty wildness. A staff favourite, produced and bottled for Domaine VSN.
Rennersistas x Sabotage: Rennersistas Zweigelt the Sabotage edition 2017 - We have a new staff favourite on our hands. Good amount of fresh berries on the nose, followed by slight reductiveness and peppery notes. Crisp fruity acidity, green pepper and a hint of smooth tannins, followed by quite the herbaceous linger on the palate.
Complex, bold, smooth and fresh. This one works for all occasions.
Details

Country:

Region:

Size: 0

Alc: